Winter Wonderland iBook
Saturday, January 25, 2014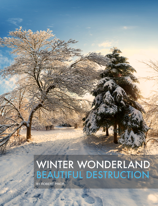 I've written an iBook about last year's ice storm. You'll need an iPad or a Mac running Maverick to read it. It's free.

On December 20, 2013, southern Ontario was hit with an ice storm followed by a deep freeze. Over an inch of ice accumulated in some places, breaking branches and cutting off power to many houses. In the deep freeze that followed, hydro crews worked in -30° temperatures to reconnect electricity, but many households were without power for a week.

I was lucky. My neighbourhood has underground power lines, and while it was dangerously slippery we could actually enjoy the beauty of the storm and its aftermath.

This short 14-page book contains photographs and interactive panoramas showing the beauty of the ice storm.

Use this link to get a copy:
https://itunes.apple.com/us/book/winter-wonderland/id799194141?ls=1&mt=11
.